It's that time of year again – property tax bills are being sent out and if you haven't already received yours you should within the next week. The last two years Johnson County in particular has seen a huge surge in values. Although this year isn't necessarily as drastic as last year, over 93 percent of Johnson County occupants are seeing an increase with the highest percentages being in the northeast sector of the county including Prairie Village, Westwood and Fairway. With only two months of inventory (six months being a balanced market) we are still heavily in a seller's market although the market has cooled a bit and we expect to see even more balance in 2020. This year about three-fourths of residential properties will see a bump of 10 percent or less, with almost half of those properties going up 5 percent or less. The map below shows the average percentage change in parts of Johnson County for the last year.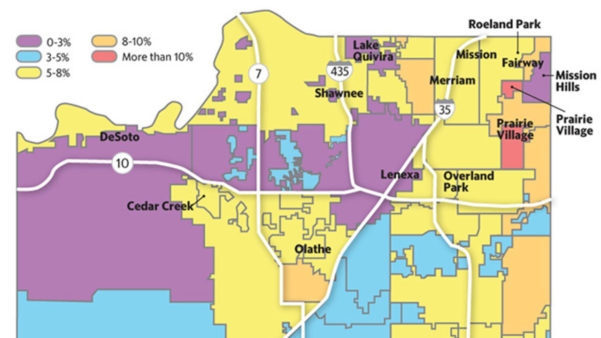 Last year nearly 6,700 people requested an appeal of their appraisal and about half received an adjustment. Due to the large number last year, this year the county has made the appraisal appeal process more user-friendly. 
If you'd like to appeal, you can fill out a form to request an adjustment and mail it back to the appraiser's office. The deadline to appeal is March 27. This year, for the first time, you also can appeal online. The instructions are on the back of the appraisal notice. More information is at jocogov.org/appraiser. You'll need to use the PIN number on the back of your notice when applying online. You can also find more information about the complete appraisal process by visiting: https://jocogov.org/dept/appraiser/general-information/appraisal-process
Appraisal officials will consider new and convincing information that the county's value was too high. An appraiser with the county mentioned "It's really a conversation that we want to have about your house. You know the house better than I do. We need to know what you think is right or wrong."
The appeal conversation can occur over the phone or in person. Final results after appeals will be issued by May 20. 
If you have any questions or would like to talk with us about whether an appeal process could be right for you, please don't hesitate to contact us at [email protected].