This month we are continuing with our mini-series of "A Few of My Favorite Things" where we share some things we are really enjoying right now that we think you might want to check out! This month, we are featuring the favorite things of Chad Green!
Things that save me time: Tovala Smart Oven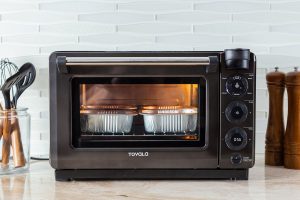 As full time working parents of 3 extremely active boys, cooking healthy meals during the week has been a challenge. We've experimented with Plated and Blue Apron with nominal success. Sure, the meals were great, but the time spent prepping the ingredients and the sink full of dishes only ended up creating more work for us. That's where Tovala enters. Think meal delivery meets genius oven. Tovala, is a new Wi-Fi-connected steam oven with accompanying ready-to-cook meals.
First, meals are created by Tovala, and are then packaged and delivered to your doorstep. Tovala owners then use their smart ovens to scan the bar code on each meal, place the prepackaged ingredients inside and press start. The oven knows exactly how long to cook each meal, and most are ready in less than 20 minutes. The best part? Prep work and cleanup are virtually nonexistent. You can even track the cooking process from your phone. The menu changes weekly and we've been pretty happy with the quality so far.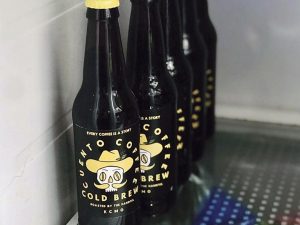 A local KC place that I love: Cuento Coffee and Crane Brewing
Coffee and beer, two of my favorite things under one roof! Crane Brewing out of Raytown recently offered up space in their taproom for Cuento Coffee to open its first coffee shop. Cuento Coffee was born out of owner, Andy Gallant's back yard when he started roasting coffee for family and friends. After receiving positive feedback, Andy started selling his bagged coffee and cold brew to local businesses before teaming up with Crane Brewing. Stop in for a signature Raytona Bee-ch Latte made with raw honey from Messner Bee Farm, Cold Brew, or even a beer brewed with Cuento's coffee.
What I'm asking Santa for (hopefully my wife reads this): ŌURA Ring
ŌURA is a revolutionary wellness ring and app, designed to help you get more restful sleep and perform better. It enables you to learn how your lifestyle choices affect your sleep, and how the quality of your sleep affects your ability to perform.

The ŌURA ring can automatically tell when you are sleeping. When you go to sleep, it analyzes the quality of your rest and recovery by measuring your heart rate, respiration rate, body temperature, and movement. While you are awake, it monitors the duration and intensity of your activities, and the time you spend sitting.
The ŌURA app integrates and visualizes this data to identify patterns between your sleep quality and daily activities. By understanding how well you slept and recharged, it can determine your readiness to perform and help you adjust the intensity and duration of your day's activities. It can also uncover actionable insights for changes to your daily activities that can help you sleep better.
Santa List Continued: AirPods Pro
Finally, an AirPod that will hopefully stay in my ear. AirPods Pro were designed to deliver
Active Noise Cancellation for immersive sound, Transparency mode so you can hear your surroundings, and a customizable fit for all-day comfort. Just like AirPods, AirPods Pro connect magically to your iPhone or Apple Watch. And they're ready to use right out of the case.