There are so many ways to give back around Kansas City. Here are just a few that need donations of actual toys and items as Christmas gifts this year. If you can't make it to the drop-offs and would still like to donate, just give Cassy a call at 913.908.3738 and we'd be happy to pick it up and drop it off for you.
Rose Brooks – Rose Brooks is an organization whose mission is to break the cycle of domestic violence so that individuals and families can live free of abuse. At Christmas, Rose Brooks creates a holiday store to give back to families suffering domestic violence or who have had to leave their homes to escape violence. 
Click Here to see the list of their needs.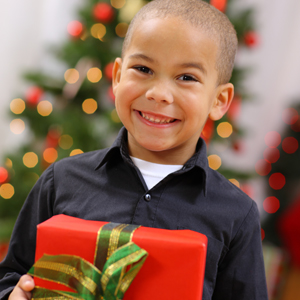 Gifts can be dropped off at Ward Parkway Center
8600 Ward Pkwy
Kansas City, MO 64114
Tuesday, December 1 – Thursday, December 17
Monday – Saturday: 10 am – 7 pm
Sunday – Mall Hours
City Union Mission – Each year the City Union Mission makes the holiday season a little brighter by delivering over 16,000 gifts to low-income or homeless families, nursing home residents and others in need.
Click Here to see the list of their needs. 


Gifts can be dropped off at
1700 E. 8th Street between 8:00 am and 3:30 pm, Monday – Friday.
After 3:30 and on weekends gifts need to be taken to 1310 Wabash.
In order to allow time for separating and wrapping gifts, they ask that they be delivered by December 7th.
KVC Toy Drive -KVC Health Systems is committed to enriching and enhancing the lives of children and families by providing medical and behavioral healthcare, social services, and education. Most of the kids in the KVC program will not receive a single Christmas gift from outside of KVC.
KVC serves kids anywhere from a couple years old through high school. They are looking for any NEW items of toys, clothing and electronics that would make a good Christmas gift. 

There will be a toy drive sponsored by Talk of the Town and Allstate (Cory Schnabel) You can attend this drive and bring new, unwrapped gifts or donate by entering the raffle.
It will be held on Monday, December 7th at 5:00pm
at Talk of the Town at:
11922 W 119th St, Overland Park, Kansas 66213
There will also be half priced burgers, 60 cent wings and other specials to benefit the drive.
Keller Williams Coat Drive – Please drop off your gently used coats, gloves and blankets at our office between now and December 18th. We will be dispersing them to the Johnson County Christmas Bureau, Hope Faith Ministries and local families in need.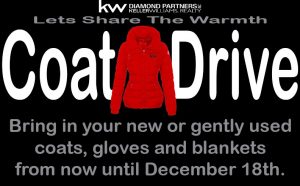 Our office address is:
13671 S Mur-Len Road
Olathe, KS 66062
If you are unable to stop by, just let us know and we can pick the coats up for you.
Just email [email protected]