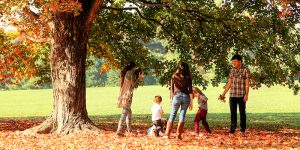 Like everything else this year, fall feels a little bit different. Maybe you're longing for the hustle and bustle of the City Market or you're bummed about missing Trick-or-Treating. While some things won't be quite the same this year, there are tons of wonderful ways to celebrate the arrival of autumn. Here are just a few suggestions:
Get out of the house and take a mini-road trip to see the changing leaves. If you don't know where to start,

Visit KC has put together a list of some particularly scenic places to experience the views.
Roll around town and take photos in front of some of KC's most "insta-worthy" walls!

Made in Kansas City has located many photogenic places around town from vining walls to creative murals.

Make it a date or a family event and have some fun making memories.
The lack of dining out is perhaps one of the most heavily lamented activities this year. Although many places are not open for traditional dining, it's still a great time to try something new

. Here's a list of some great comfort food places around town.

Order carryout and make a night of it on your patio!
If you're looking for a creative outlet, make sure you schedule a night on your calendar to carve your pumpkin for our annual pumpkin carving contest!
Although many of the traditional fall festivals may not be an option this year, there are still MANY newly organized events around the city from Fun in the Park Family Date Nights to Whimsical Woods.

KC Parent has an extensive list of many options

,

so check it out and find something that fits you and your family.