Arguably one of the hardest service providers to find is a reliable mechanic. We get asked about mechanic referrals often so this month we'd like to introduce you to Burnett Automotive run by our client and friend, Willie Burnett.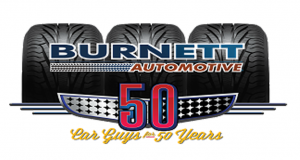 Burnett Automotive

Burnett Automotive consists of 8 locations offering full service automotive repair with 8 locations (6 in Johnson County KS and 2 in Manhattan). We service all makes and models of vehicles. We are a Goodyear independent tire dealer while also servicing all major tire brands. All of our locations provide anything from a tire repair up to and including major mechanical repairs.

The Burnett Automotive mission statement is "Legendary Service through Quality, Consistency, Knowledge and Commitment". This business philosophy is what we strive to provide every customer, every day and has allowed us to service our customers for over 50 years. The history of Burnett Automotive tells the story of the values and focus on customer service that has built the company from its roots in Manhattan. We call this "The Burnett Automotive Legend" and we feel it tells the story of our commitment to our customers, employees, and friends.

As with many stories handed down, the olds ways are the basis of what has built today. The Legend Begins – This legend started with a father, Chet Burnett and his three sons Bob, Bill and Tom running a local service station in Manhattan, KS. The way this family business thrived was in its ability to treat its customers with courtesy and respect. A philosophy on how a customer should be treated in their company began to take shape. Each of the family members had their unique talent that contributed into making this customer service philosophy second to none. As the business grew – new employees came on board. This philosophy became an attitude that the newcomers not only noticed but also willingly embraced. There was no name for this philosophy, it was just there and that is how business was done. The business eventually became large enough to branch out to other markets outside of the Manhattan community and now Burnett Automotive proudly provides legendary customer service at 6 different locations in the Kansas City Metro.

Kansas City Burnett Automotive Locations:
Overland Park:
913.451.1343
College Blvd & Quivira
913.402.9007
135th & Quivira
913.681.8824
135th & 69 hwy
913.851.9229
148th & Metcalf
Olathe:
913.393.2589
1001 E. 151st St.
Lenexa:
913.492.6171
87th & Long
If you have a unique business that you'd like us to share in the future, email us at [email protected].