It's that time of year again – time to spruce things up, open the windows and enjoy the fresh air. Nothing can help you enjoy spring more than getting your house in order and cleaned….and what better time to do it then when you've got nowhere else to go?! Although you can take spring cleaning to many different levels, here is a shortlist of items that are sometimes forgotten around the house as well as a few maintenance items that you may want to check on as well.
Spring Cleaning Checklist
Tune-up your lawnmower – Before you spend countless hours mowing this summer, take a minute to change the engine oil and sharpen the cutting blade on your mower; you'll lengthen the life of the mower and improve the look of your lawn.
Clean your dryer vent – Not all lint gets caught in the lint trap; some makes its way into the dryer vent. A clean vent will save you money by reducing the time your dryer has to run, while a plugged vent not only wastes money but could cause a house fire.
Clean the vegetation around your AC – To work efficiently, the AC compressor needs good airflow. To ensure it has breathing room, prune any plant growth that could block it and make sure all leaves and debris from the winter are cleaned out.
Clean your deck – To fully enjoy your outdoor spaces, you may want to run a power washer over your deck or give it a good scrub. If you don't have a power washer, you can usually rent one from Home Depot. It may even be time to put on a new coat of stain/sealer. 
Clean the Tops of Cabinets and Appliances – Usually during spring cleaning you hit the inside of appliances, but don't forget to clean the tops and also underneath!
Fans and Lights – While you're looking up, don't forget to get those fan blades and light fixtures. Your sinuses will thank you.
Mattresses – Spring is a good time to clean and flip your mattress too!
Patio Furniture – In preparation for patio season, it's a great time to scrub down the patio cushions and furniture – don't forget the underside of that umbrella!
Trash Cans – While you've got the hose out, be sure to scrub and spray down your inside and also your large garage bins for a fresh spring start.
PROTECT YOUR HOUSE FROM WATER
The rainy season is now here in Kansas City. Since water is one of the worst enemies of a house, its the perfect time to clean out those gutters and remove any limbs & leaves that have accumulated in the valleys on the roof. If you have a sump pump, check it to make sure it's operating properly. Installing a battery backup for your sump pump is never a bad idea either.
Just in case you're in the process of installing new gutters, we strongly recommend the 5″ seamless aluminum model for gutters and downspouts.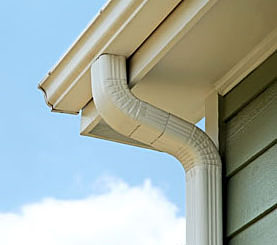 Larger gutters allow more water to channel into the downspouts, with less spilling over and onto the foundation and it is excess water around a foundation that sometimes causes cracking of the basement walls.
Also, another way to protect your foundation from water is to vent your downspouts directly into a French drain, which collects the water and disperses it underground 4-5′ away from the home. ​At minimum, you should install a plastic vent hose onto the downspout, instead of using a traditional splash block.
Finally, a good practice for keeping water from causing trouble is to create a slight grade away from the home with a couple bags of dirt. Try and maintain a 1″ slope for every 12″ into the yard.
LAWN CARE
Spring is the best time to prevent weeds by using pre-emergent weed control, which works by preventing weed seeds from germinating. If you haven't already, this week is the time to get it down – that should stop crabgrass and other weeds before they have a chance to grow. The Grass Pad makes an excellent guide for lawn treatment that you can find here. 
Once spring comes around, it's time to recharge the sprinklers and prepare the system for the season. Sprinklers that have been properly winterized should contain no water, and a cap on the base of the vacuum breaker was probably loosened or removed. You'll need to reverse these procedures to get your system ready for daily use. 
OTHER SPRING MAINTENANCE ITEMS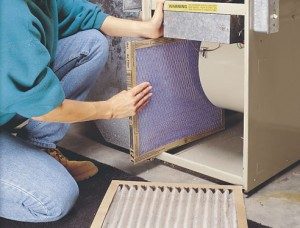 Spring is a great time to examine your chimney and siding. Winter weather can be hard on the exterior of your home and it's always good to try to find any cracks, missing mortar, loose bricks or boards and signs of rot as soon as possible to make sure you can repair those items before they cause any major problems. Also use this time to make sure your windows are properly sealed and caulked to ensure you don't run into any leaks as the rainy season progresses. 
Before the air conditioning season, it's also a good time to schedule your HVAC tune-up if you haven't had one in a while. Also be sure to change your HVAC filter. 
If you need any recommendations for professionals to help with any of these tune-ups or maintenance, check out our HomeKeepr app which you can download by texting LONGWAYHOME to 79564.