It's that time of year again – time to spruce things up, open the windows and enjoy the fresh air. Nothing can help you enjoy spring more than getting your house in order and cleaned. Although you can take spring cleaning to many different levels, here is a short list of items that are sometimes forgotten around the house. 
Spring Cleaning Checklist
Tune up your lawnmower – Before you spend countless hours mowing this summer, take a minute to change the engine oil and sharpen the cutting blade on your mower; you'll lengthen the life of the mower and improve the look of your lawn.
Clean your dryer vent – Not all lint gets caught in the lint trap; some makes its way into the dryer vent. A clean vent will save you money by reducing the time your dryer has to run, while a plugged vent not only wastes money but could cause a house fire.
Clean the vegetation around your AC – To work efficiently, the AC compressor needs good airflow. To ensure it has breathing room, prune any plant growth that could block it and make sure all leaves and debris from the winter are cleaned out.
Clean your deck – To fully enjoy your outdoor spaces, you may want to run a power washer over your deck or give it a good scrub. If you don't have a power washer, you can usually rent one from Home Depot. It may even be time to put on a new coat of stain/sealer. 
Clean the Tops of Cabinets and Appliances – Usually during spring cleaning you hit the inside of appliances, but don't forget to clean the tops and also underneath!
Fans and Lights – While you're looking up, don't forget to get those fan blades and light fixtures. Your sinuses will thank you.
Mattresses – Spring is a good time to clean and flip your mattress too!
Patio Furniture – In preparation for patio season, it's a great time to scrub down the patio cushions and furniture – don't forget the underside of that umbrella!
Trash Cans – While you've got the hose out, be sure to scrub and spray down your inside and also your large garage bins for a fresh spring start.
Large Item Pick-Up Schedules Around the City
A large part of spring cleaning is getting rid of things and minimizing around the house. Many of those items can be donated (we've listed donation locations below) but many of those items just need to be thrown away. Many areas throughout the city either offer a scheduled large item pick up or the ability to schedule a one time pick up at your house. Check the links below for more information for your area.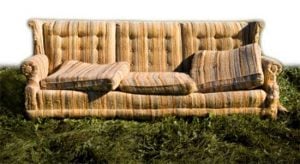 Places to Donate Around the City
If you don't know of someone in need who could use your items, here are some great places that generally accept donations or can even pick items up from your house. 
If you're running low on energy, time or both, we also know some local service providers who can help tackle care of your spring cleaning to-do list.
Window AND gutter cleaning
Heart of America Window Cleaning
913.791.4068 | [email protected]
House Cleaning – regular and one-time deep cleanings
Ana Navarrete | Royal Clean – Custom
913.940.8842
House Cleaning – regular and one-time deep cleanings
Rosie Tovar | Extra Mile House Cleaning
913.225.4711