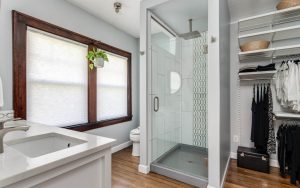 What began as a temporary hiatus from going to school and/or work has turned into a more long-term situation for many people all over KC. Some are still working from home because of precautionary measures for COVID-19 and some employers are even rethinking the need for expansive office spaces and considering making many jobs permanently remote. No matter what your situation, there are very few people who have not had to make some kind of change to their daily lifestyle in the last 5 months.
I began writing this article to overview some creative ways to make a homework station or a place to work from home, but there are MANY people who have already written on the topic and have done a way better job at providing inspiration than I could. I've included a few links to some of my favorites at the bottom of this article.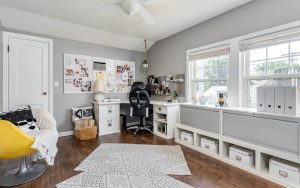 Instead, I'd like to remind you that your house is more versatile than you think. What I love most about real estate is walking into a home and helping people figure out how it can work for THEM. You can walk into the same house with three different families and it will be viewed in three different ways. In our modern, American culture we get hung up on the formality of requiring a formal dining room, a formal guest bedroom, sitting rooms, and other areas that are used once or twice a year. I'm not saying there is anything wrong with those spaces, but if it isn't working for you, think outside the box and change it up! Homes should evolve as your family evolves whether that means condensing your living area into a smaller area around the kitchen to constantly keep an eye on your infant, creating multiple living spaces so you and your teenager can watch Netflix at the same time, or moving your home essentials to one floor of your home to help appease aging knees.
I encourage you to take a look at your current home setup – Is there something that could work better for you? Could your guest bedroom also serve as a home office by installing a murphy bed or perhaps converting the closet space into a hidden desk area? Should your formal dining room become homeschooling central so you have a space to concentrate and teach? Should you minimize and give up some storage space to create a workshop to encourage a new hobby? Should that space under the stairs become a kids' play area? There are many creative solutions for both large and small spaces, all you need to do is take the first step and evaluate. Don't be afraid to actually LIVE in all of your home's spaces. And don't forget about the outside! What can you do to create a peaceful retreat in your yard? Could your useless shed that has been collecting junk for years actually become an awesome haven? You can do it! It's not just for the people on HGTV. If you're ever struggling with the spaces in your home or need to run remodeling plans by someone, please don't hesitate to reach out to us. We love helping you make your house a true home and are honored when you see us as your real estate resource. 
Here are some links to ideas of creating a homework station or work-from-home area that might get your creative juices flowing!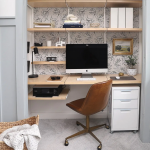 http://makingprettyspaces.com/2020/05/19/elfa-homework-station-reveal/
https://www.yourmodernfamily.com/ikea-homework-station/
How To Create The Ultimate Homework Station (So You'll Never Have To Ask "Is Your Homework Done?" Ever Again)